'Chance' was born prematurely on February 9, 2009.  At 36 lbs, he was tiny and did not stand much chance for survival.  However, survive and thrive he did and we are so glad.   Due to his humble beginnings, Chance is not a really tall horse himself, however, his foals are very good, normal sized.
He is a very intelligent, kind, and athletic horse.  He has two foals from 2012, three from 2013, five in 2014, three in 2015, and five in 2016 and one in 2017.  All who are straight legged and have his great sweet personality.  They are all good sized colts and have nice conformation.    His colts will be eligible for the Southwest Desert Classic, C-N Futurity and Future Fortunes by the time they run.  Please LIKE us on Facebook to stay updated :)
He was being ridden before he almost cut his front foot off and is now only breeding mares.  He is currently standing at Meeks Quarter Horses, in Riverton WY.  $800 LFG, Collection and live cover available.  Mare owner responsible for mare care for live cover and shipping/collection fees for A.I. Proven Mares only.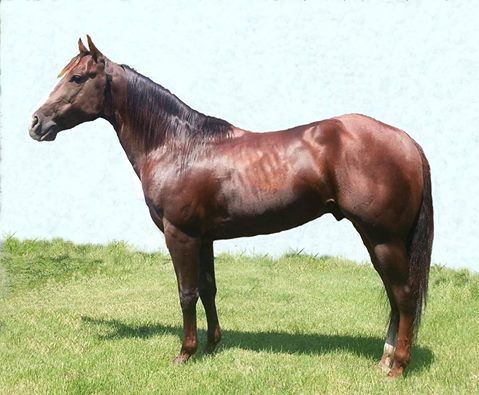 $$$ Earning Barrel horse, Team Sorting and heeling. (Turtle Powell heeled on at Rodeo Houston)

Sired AQHA Champions in almost every event, 3 AQHA World Champions and 4 AQHA Reserve World Champions. Get Earning 791.5 Performance, 873.5 Amateur, and 292 Youth Points. AQHA Incentive Earners of $38389.13, AQHA World Champion Show $16,022.19, NCHA $55321.53